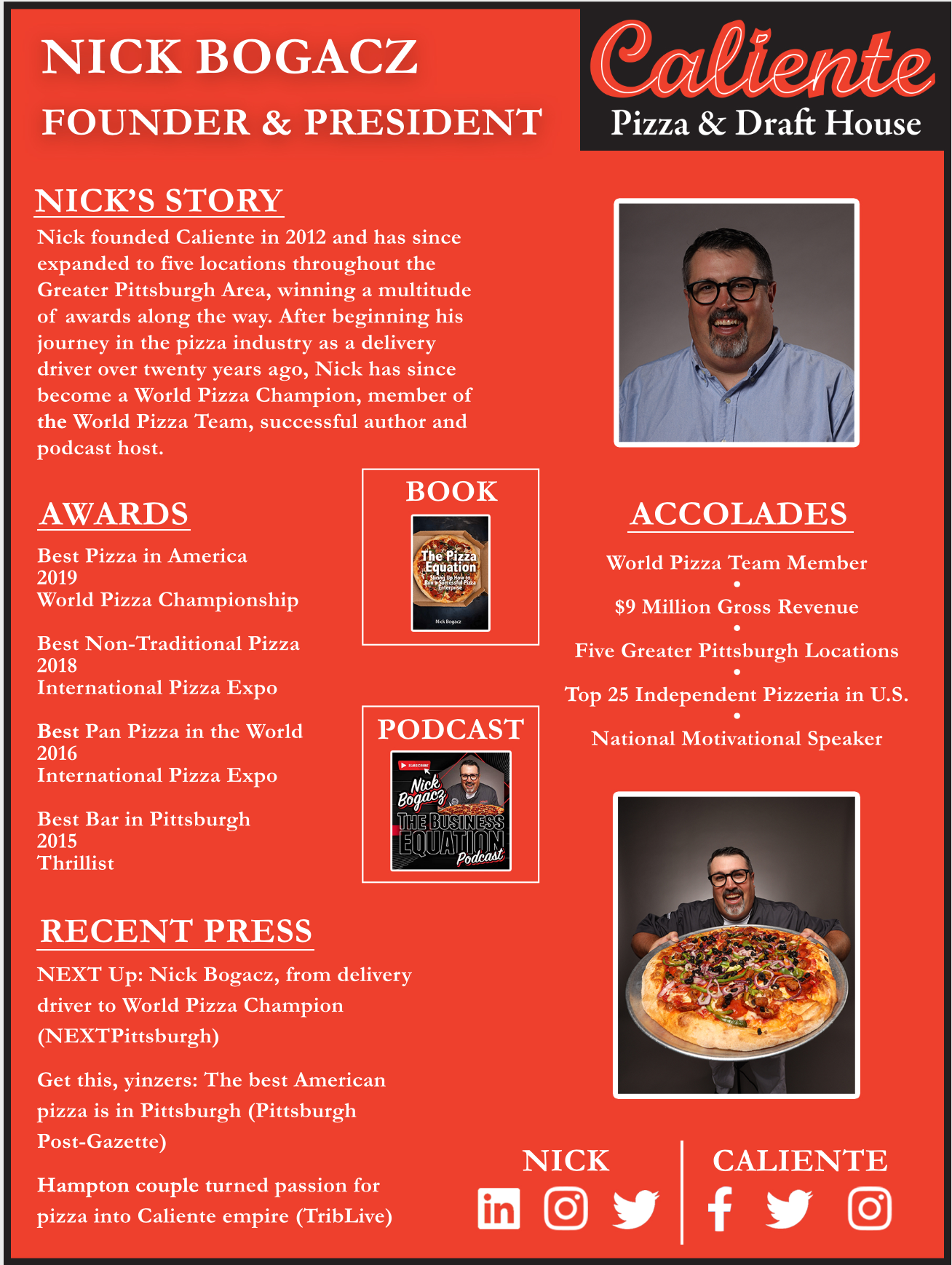 Consultant • Trainer • Author
Whether you've been in the business and just need a fresh set of eyes on your operations, or are planning on opening a restaurant, Nick is your guy. He comes with over 20 plus years in the industry and most recently has opened five Restaurants in 6 years. Nick specialize in opening restaurants under budget and ahead of time schedules.  His stores have increased year over year to the tune of well over 6 million dollars a year. He did not get there by luck, he is a master of marketing and operations.
Nick believes in some key points that he has used to be successful in the industry.  They are:
P.S.I.  Product, Service, and Image.  He will build you a plan that maximizes those 3 key components that will give you the maximum results that will produce the most important solution.  How to raise sales, cut costs and increase profits.  Along Nick's journey he likes to say he has also made mistakes, costly ones, that he has made and will educate you on, so that you also do not have to make them.
After assessing your needs, Nick will prepare  a detailed action plan, spelling out services to be provided, a timeline and an accurate estimate.  During implementation, he will maintain close contact and keep you apprised of the project's progress. When the project is complete Nick will still only be a phone call or email away if you need any follow up service or have any questions.
Speaking Engagements:
A member of the World Pizza Champions team who speaks on a vast subject of topics.  He has spoken at The International Pizza, Pizza and Pasta Expo and The Mid West Restaurant Association Expo.  The subjects have ranged from Motivation, Marketing Strategies, Social Media Strategies, Increasing Profits, adding Craft beer to your menu and more.  Nick also speaks to his organization on a wide range of topics, hire him to speak at your next meeting or event.
---
BIO:
Nick is the President/Founder of Caliente Pizza & Draft House. With over 20 years of experience in the industry, he opened his first location in the fall of 2012 and has grown quickly to his 4 current locations. He started in the industry as a delivery driver in 1996 and fell in love with the team atmosphere and high energy that the pizza business provides. He worked his way through many levels of corporate chain pizza companies, always having his eye set on opening his own independent stores. He learned corporate structures and procedures, and business financial systems that have helped him to build his company so fast. Nick loves the freedom an independent operation provides for company decision making. He is a motivating leader and team builder and has grown his company to over 150 employees through leading by example.
Caliente and his team members have won numerous awards in the industry, including World Championships at the Pizza Expo in 2016, 2017 & 2018. He is also a part of the International Pizza Expo's family of speakers.
Nick was successful in bringing together pizza and craft beer within his company. Each of his restaurants boast over 24 taps and a bottle selection of over 150 beers. His stores specialize in hard to source craft beers from across the country and around the world. He has also taken a unique approach to craft beer by setting up collaboration brew's with breweries. Nick and his team go to breweries where they brew special recipe beers to be served at his locations. He has collaborated with local breweries and world class breweries across the country.
Nick's goals in the Pizza Industry continue to be met by being committed to excellence with focus and positive vibes. His wife Angie has been his biggest supporter and is proud to be a Pizza Wife for Life. His teenage kids have grown up in the industry and have taken a keen interest in the business. When not in the grind and every day hustle that he craves, he enjoys good quality fun and relaxing with his family.
---
PIZZERIA AWARDS:
2013
Best New Pizza Restaurant Voted by WPXI TV Pittsburgh
2015
Best Pizza in Bloomfield Readers' Choice Awards Pittsburgh Tribune Review
Thrillist "Best Bar in Pittsburgh"
Thrillist Names our Cheesy Bread" Best Late Night Eats"
Gold for Best Pizza in the City Readers' Choice Awards Pittsburgh Tribune Review
Named Rogue Brewery's Pittsburgh Embassy
Named in the book Mid Atlantic Beer Lovers Best Breweries, Brew Pubs and Beer Bars
2016
Best Pan Pizza in the World International Pizza Expo
Thrillist Best Pittsburgh Bar with Best Late Night or Anytime Eats
Gold For Pizza best Pizza in the City Readers' Choice Awards Pittsburgh Tribune Review
Gold For Best Pizza In the North Hills Readers' Choice Awards Pittsburgh Tribune Review
Gold For Best Hoagies in the North Hills Readers' Choice Awards Pittsburgh Tribune Review
2017
1st place East Division Traditional Pizza at the World International Pizza Expo
1st place East Division Non-Traditional Pizza at the World International Pizza Expo
Gold Best Pizza in Pittsburgh Readers' Choice Awards Pittsburgh Tribune Review
Gold Best Wings in the City Readers' Choice Awards Pittsburgh Tribune Review
Gold Best Pizza in Bloomfield Readers' Choice Awards Pittsburgh Tribune Review
Gold Best Pizza in the North Hills Readers' Choice Awards Pittsburgh Tribune Review
Named to Pizza Today's Hot 100 Independent Restaurants
2018
Best Non-Traditional Pizza in the World International Pizza Expo
Named to Pizza Today's Hot 100 Independent Restaurants

 
---
APPEARANCES:
http://smartpizzamarketing.libsyn.com/spm-127-building-a-business-with-pizza-and-craft-beer
http://smartpizzamarketing.libsyn.com/spm-179-nick-of-caliente-pizza-draft-house-4-locations
---
PIZZERIA:
Caliente Pizza & Draft House
4624 Liberty Ave Pittsburgh, PA 15224
Caliente Pizza & Draft House
4706 William Flynn Highway Allison Park, PA 15101
Caliente Pizza & Draft House
329 Castle Shannon Blvd., Pittsburgh, PA 15232
Caliente Pizza & Draft House
225 Commercial Ave, Pittsburgh, PA 15215
Caliente Pizza & Draft House
2125 Mosside Blvd. Monroevillle, PA 15146
---
Links of Interest 
https://www.pizzatoday.com/departments/our-experts/conversation-nick-bogacz-caliente-pizza-draft-house-pittsburgh-pa/